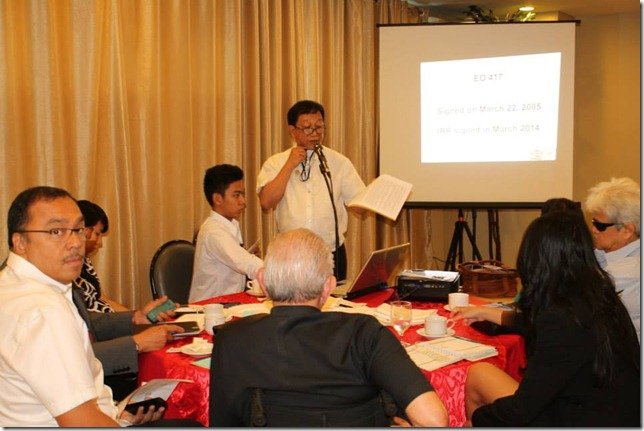 1. Persons with Disabilities (PWD) received three sewing machines from the British Embassy in a very simple ceremony held at La Breza Hotel, Quezon City on March 12, 2015.
2. On behalf of the British Embassy, I applaud the initiatives put forth by the New Vois Association of the Philippines which aims to alleviate poverty and uplift the lives of PWD through economic empowerment,said Trevor lewiss, Deputy head of Mission of the British Embassy in Manila, during the awarding of the three (3) sewing machines.
3. The new Vois Association of the Philippines Inc. (NVAP) President Emer Rojas said the sewing business that will be set up by PWD groups in Quezon City would initially supply the bed lines requirements of the Department of Health.
4. Under the PWD Empowerment Project by the New Vois Association of the Philippines that is supporters by the British Embassy, the PWD organization will be receiving sewing machines that they will use start up a community-based business that makes bed linens.
5. "On behalf of Mayor Herbert Bautista of Quezon City, we wish to convey our continued support to the PWD Empowerment thrust and we shall make sure that this commitment is well disseminated in Quezon City" said counsilor Allan Reyes, 3rd District, Quezon City.The implementation of EO417 down to the local government level would encourage community-based livelihood and discourage welfare attitude that stops PWDs from being productive individuals, said Mike Barredo, PWD Empowerment Project Coordinator.
6. "We are glad that NVAP, which sits at the local development council of Quezon City, is gaining ground in the inclusive development movement of the PWD sector. PWD can now be considered as part of the sustainable development of the city and not just mere recipients of welfare," Barredo added. The British Embassy congratulated NVAP for the project and said PWDs offer promising talents that should be encouraged and enabled to flourish.
7. Executive Order 417 signed in 2005 but only started serious implementation last year after the approval of its implementing rules and regulations; EO417 ensures sustainable livelihood for PWD as it mandates all government offices to procure 10 percent of their needs from this sector.
8. Aside from equipment, PWD will also be provided with technical support as well as business management training by the Technical Education and Skills Development Authority (TESDA) as mandated by EO417. "TESDA fully supports the PWD Empowerment Project of NVAP as it aligns with TESDA's thrust on inclusive development," said Marta Hernandez, TESDA executive director.
9. "PWD normally receive skills training to make products but they are left to compete in the regular market that unfortunately has preconceived biases against differently-abled people. But with EO417, PWD are now assured of continuous source of livelihood because government is their sure market." Said Rojas. Rojas is currently the sector representative at the Quezon City Development Council and also at the National Anti-Poverty Commision (NAPC). PScijourn MegaManila)