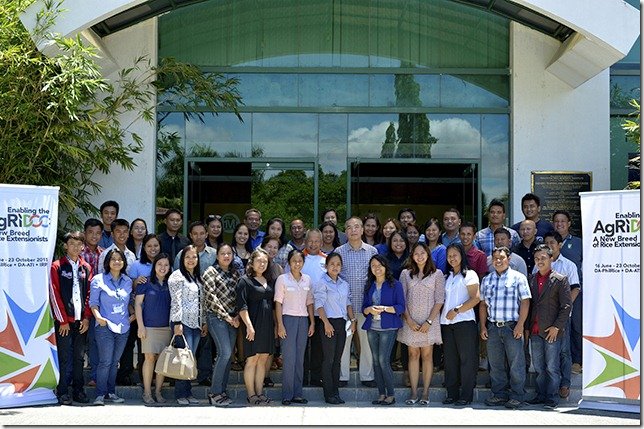 To mitigate the impacts of climate change on rice production and food security, the Department of Agriculture (DA)-PhilRice and the International Rice Research Institute (IRRI) are developing varieties that could withstand multiple biotic and abiotic stresses.
The collaborative project titled, 'Accelerating the development and adoption of next-generation (NextGen) rice varieties for major ecosystems in the Philippines'aims to fast-track  the introduction and adoption of higher yielding inbred and hybrid rice varieties resistant to major pests and diseases and tolerant to adverse environments.
To help the country achieve food security, the project targets to produce higher yields by more than 5% of previous varieties, using marker-assisted breeding and selection, multi-location testing, increased breeder/foundation seed production and dissemination.
Conventionally, it takes 6 years of breeding work, 3 years of testing, and 2 years of commercial seed production before farmers can plant a new variety.
"The project would help shorten the breeding time to produce new varieties faster and make them accessible to rice farmers," said Thelma F. Padolina, senior research fellow at PhilRice.
Multi-location trials are done in all major irrigated and rainfed rice-growing regions in the country under the supervision of DA-RFOs and state colleges and universities. Adaption trials are being done in farmer-partners' fields.
"Yield trials in farmers' fields will help them (farmers) see how improved varieties perform in their (farmers) area," said Padolina.
In its recent assessment and planning workshop held in Subic Zambales, 7-11 June, Dr. Georgina Vergara, IRRI scientist, reported that as of 2014, the project has nominated 766 entries for multi-location environment testing (MET). Among the nominated entries, 206 lines were PhilRice-bred, 488 IRRI lines and 72 GSR lines compared with eight check varieties.
The Rice Technical Working Group (RTWG) also approved 24 new promising inbreds and hybrids developed by the project.
According to Dr. Vergara, more than 2,000 lines were screened for submergence, 12,000 for salinity, and 80 lines for drought in 2014.
The project is an initiative under the Food Staples Sufficiency Program of DA being implemented jointly with PhilRice and IRRI in partnership with UP Los Baños, DA RFOs, state colleges and universities, LGUs, and rice farmers.
Study identifies most stable varieties
To identify appropriate varieties with wider or location-specific adaptation, the project titled Accelerating the development and adoption of next-generation (Next Gen) rice varieties for major ecosystem in the Philippines conducted the initial participatory varietal selection (PVS) in selected sites across 16 regions of the country.
PVS entries were composed of new varieties developed under the DA's Rice Self-sufficiency Program implemented in 2009 to 2013 and serving as start-up materials in the new Food Staples Sufficiency Program under Next Gen.
Next Gen aims to use recent advances in plant breeding and improved computational power to make the country's rice breeding program more efficient.
PVS is part of Next Gen's component 2 that aims to accelerate the adoption of high-yielding rice varieties through a new multi-environment testing strategy and production of high quality seeds.
"Through PVS, yield trials in farmers' fields will help them see how improved varieties perform in their area," said Thelma F. Padolina, senior fellow at PhilRice.
In the recent assessment and planning workshop held in Subic, Zambales on 7-11 June 2015, Next Gen identified the preferred varieties by the farmers after 131 seed kits were deployed across 16 regions in 2014 wet season.
Out of the 86 trials established, 63 sites have valid data and were then analyzed by Next Gen researchers.
According to Dr. Mary Jean Du of the International Rice Research institute (IRRI), after analyzing data from regional clusters 1, 2 and 3 (composed of Luzon and Visayas regions), the most stable varieties across sites are the following: NSIC Rc302, inbred variety for irrigated lowland; RAELINE 3 for rainfed and drought; PSB Rc68 for submergence; and NSIC Rc330 for saline.
In regional cluster 4 (Mindanao), Du reported that the most stable varieties across sites are the following: NSIC Rc300 (performed best in Lanao Del Norte and Zamboanga Sibugay), NSIC Rc222 and NSIC Rc298 (performed best in Bukidnon and Misamis Oriental) for irrigated lowland; NSIC Rc192 and NSIC Rc348 for rainfed; NSIC Rc226 for saline; and PR40146 for submergence.
Varieties RAELINE 3 and PR40146, however, have not been released commercially.
Preference analysis and sensory evaluation of PVS test entries and field day activities were done as observed during monitoring visits of the Next Gen team to different PVS sites in 16 regions.
The Next Gen project is an initiative under the Food Staples Sufficiency Program of DA being implemented jointly with PhilRice and IRRI in partnership with UP Los Baños, DA RFOs, Bureau of Plant Industry, state colleges and universities, LGUs and rice farmers.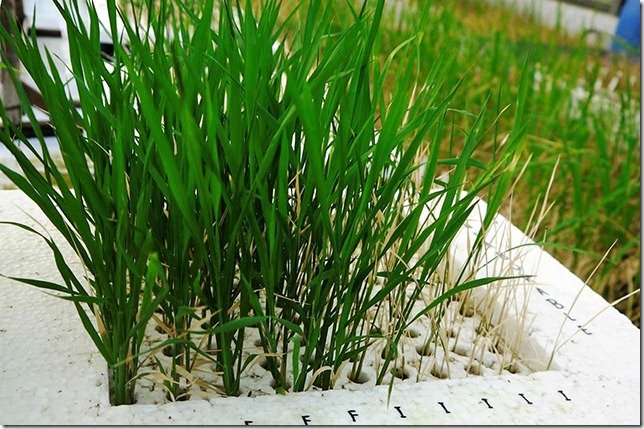 AgRiDOC training starts for Vis-Min participants
Continuing its objective of enabling the next generation of rice extensionists, Project IPaD welcomed participants from Visayas and Mindanao to its second batch of training program titled "Enabling the AgRiDOC: a new breed of rice extensionists."
The Improving Technology Promotion and Delivery through Capability Enhancement of the Next Generation of Rice Extension Professionals and Intermediariesor IPaD is one of the seven projects under the flagship of the DA's Food Staples Sufficiency Program. Being funded by the National Rice Program through the DA-Bureau of Agricultural Research, it is the only project that deals directly with improving the agricultural extension system in the Philippines.
A new training program designed for rice extensionists is one of the ways by which Project IPaD is helping revitalize the Philippine agricultural extension system. The program's foundation is now farm community transformation, not just technology transmission.
During the opening program, Mr. Julian Lapitan, interim head of IRRI partnerships office and lead of Project IPaD at IRRI said to the trainees: "As extension workers, your work should not only be limited to transmission, but it should go toward transformation. And you cannot transform if you yourself are not transformed."
Director Edmund J. Sana of the National Rice Program challenged the future AgRiDOCs (Agricultural Development Officers of the Community) to maximize the opportunity to learn from the training.
"You are here to get more, to increase your capacity, and be motivated to enjoy your work so that you can deliver," he said. Director Sana was instrumental in the realization of the Project IPaD.
"The moment you give justice to your job, that's when you start to enjoy it; and it will not be a work anymore if you enjoy it," he told the participants.
"You (extension workers) have to put it in your hearts to serve our farmers, our community, and our country," said Emelita Flores, municipal agriculturist of Sto. Domingo, Nueva Ecija. Flores is a three-time Rice Achiever awardee for outstanding performance in extension. The training has a diverse pool of 25 participants. They are young, age range is 22-41 years old, agricultural technicians, extension workers, college instructors, staff members of the Agricultural Training Institute (ATI), and staff members of PhilRice branch stations.
The trainees will undergo 4 months of intensive training that aims to strengthen their technical competence, nurture values relevant to development work, and sharpen their leadership, communication, and entrepreneurial skills.
Guiding the program is the curriculum, which was piloted last season with the Luzon batch. The curriculum is a strong mix of engaging and experiential learning designed to heighten trainees' understanding and appreciation of rice-based farming system and the development processes in farming communities.
The training curriculum consists of six modules: BeTransformed, AgRiCool, AgRiSurvivors, PalaYcheck and PalaYamanan v2.0, Rise with Rice, and Be RICEponsible. "I expect to learn many things about rice production and agriculture in general from this training, so I can better assist our farmers," said Jun Rey Samillano, AgRiDOC trainee from ATI-RTC Region 12.
The training runs from 16 June to– 23 October, 2015. Upon graduation, the AgRiDOCs are expected to help raise the bar of performance in extension in the Philippines, increase productivity to secure food self-sufficiency, and help catalyze farm community transformation. Plans for outscaling the project beyond 2015 are being laid out. (DA-PhilRice Development Communication Division)